Tiki Essentials
is the follow-up to the #1 (OK, the
only
one, that I'm aware of) beginner's guide for Tiki Wiki CMS Groupware:
Tiki for Dummies Smarties
.
Tiki Essentials will help you take your Tiki-based website to the next level and become a member of the Tiki community. You'll learn the tips and tricks that I have accumulated over the years as a Tiki community member and code contributor, member of the Tiki Software Association, and (most-importantly) the administrator for several Tiki-based websites.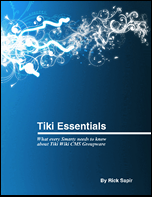 This guide is written by
Rick Sapir
and was originally published by
KeyContent.org
. As with
Smarties
, this project is a collaborative effort. I encourage you to become a writer, editor, or translator. It is free, easy, and takes only a moment to register.

Ready to begin?
Get started...
You
can help write, edit, and translate
this guide.
Learn how...
What's this guide about?
Use this
tag cloud
to find out.